It's well known that Joseff got into the creation and rentals of jewelry for films by first falling in with the costume designer crowd. Edith Head is arguably THE most famous designer of the classic Hollywood era. She designed not only for films, but for the stars themselves. Naturally, she was a regular of the Joseff of Hollywood studio, coming in to pick pieces complementary to her work, or to ask Joseff to create such pieces.
Born Edith Claire Posener 10/28/1897 in San Bernadino, California, Head went on to become one of the most well-recognized costume and fashion designers of all time. As a child, she was raised by her mother and step-father, moving often to follow his work.
She graduated from the University of California at Berkeley in 1919 with a Bachelor's of Arts in Letters and Sciences, with honors in French. She went on to earn her Masters Degree in Romance Languages at Stanford University in 1920. After graduating from college, she took a position at Bishop's School in La Jolla, California teaching French.
She quickly became discontent with simply teaching language to her students, and instead sought a position teaching both French and art at the Hollywood School for Girls, despite no real experience or formal education on the second subject. In order to hide her inexperience and improve her drawing skills, she took night classes at Chouinard Art College in secret.
The student body at the Hollywood School for Girls was almost exclusively daughters of the Hollywood elite, including those of Cecil B. Demille, Louis B. Mayer and Mary Pickford and Douglas Fairbanks. This exposure gave her the in to pursue a higher paying position as a sketch artist in the Paramount costume department in 1926. It is rumored that when she interviewed for the position with head costume designer Howard Greer, he commented that he'd never seen so much talent in one portfolio and hired her on the spot. Head later admitted that most of the sketches had actually been the work of her fellow art students, "borrowed" just for that interview.
In her early career with Paramount, she had some comical design flubs. Perhaps most famously, she was to design costumes for the Candy Ball in Cecil B. de Mille's film, "The Golden Bed." She designed them to have real candy elements, which soon ended in disaster as the pieces of her design either broke or stuck together.
After this first series of blunders, she worked closely with Howard Greer, improving swiftly and by great measure. Her first seriously noted influence was in her designs for Dorothy Lamour's sarong style dresses, meant to show off her signature "exotic" image. This iconic look is often imitated by modern designers popular within the "retro" or "pinup" fashion circles.
By the 1930's Head had become one of the most prominent designers that Paramount had under contract, known to get very involved in the process with her subjects. This set her apart from most other designers of her time, who worked mostly with the film directors to choose a look. Head's approach helped her design tailored to each subject, and helped become so sought after by the actresses of the day that she was often "loaned out" by Paramount to other studios at the specific requests of the actresses in each film.
In 1948 The Academy Awards created a new category for "Costume Design." Head won a total of 8 awards during her career, with 35 total nominations.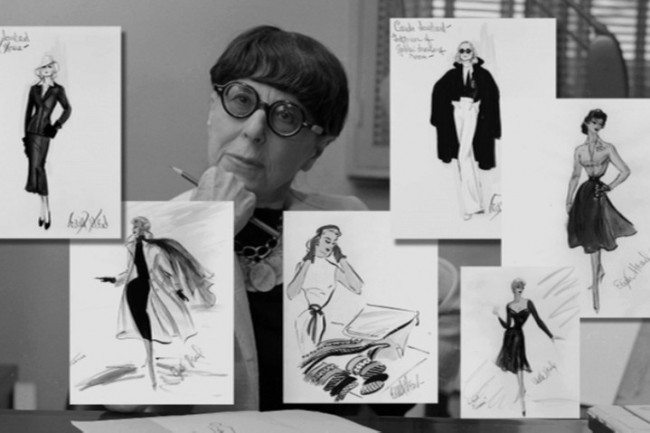 Her many famous subjects proudly wore her designs, and Edith Head became synonymous with Hollywood fashion. Some of her most famous works were worn by Grace Kelly and Audrey Hepburn.
In 1967 she left Paramount after 43 years to work for Universal Studios, rumored to be sparked by her close working relationship with Alfred Hitchcock, who had also moved to Universal several years prior.
During 196's & 1970's, Hollywood changed from prominence in film to television. She designed the costumes for "Bewitched" character Endora, and even appeared on screen in a cameo as herself in the murder mystery series "Columbo." In 1974 Head was inducted into the Hollywood Walk of Fame with a star on Hollywood Blvd.
Edith Head died October 24, 1981, just days short of her 84th birthday. She remains one of the most memorable costume designers in Hollywood history