Often called "The Most Beautiful Woman in Films," Hedy Lamarr's beauty and screen presence made her one of the most popular actresses of her day.
Born Hedwig Eva Maria Kiesler on November 9, 1914 in Vienna, Austria, she starred in her first film at 17 years old, a German project called Geld auf der Strase. Hedy continued her film career by working on both German and Czechoslavakian productions. The 1932 German film Exstase controversially brought her to the attention of Hollywood producers (Lamarr is briefly seen swimming naked and running in the nude in this film).
At 18 years old she married an ill match; a wealthy but abusive man named Friedrich Mandl. Lamarr is quoted as saying about her marriage "I knew very soon that I could never be an actress while I was his wife.... He was the absolute monarch in his marriage.... I was like a doll. I was like a thing, some object of art which had to be guarded—and imprisoned—having no mind, no life of its own." She fled the marriage finally in 1937, moving to Paris where she met MGM head Louis B. Mayer, who offered her a movie contract in Hollywood.
Once in Hollywood, she officially changed her name to Hedy Lamarr and starred in her first Hollywood film, Algiers (1938), opposite Charles Boyer. She continued to land parts opposite the most popular and talented actors of the day, including Spencer Tracy, Clark Gable, and Jimmy Stewart. Some of her films include an adaptation of John Steinbeck's Tortilla Flat (1942), White Cargo (1942), Cecil B. DeMille's Samson and Delilah (1949), and The Female Animal (1957).
In addition to being a beautiful, talented actress was not enough, Hedy was also extremely intelligent and inventive. She cherished new ideas and scientific invention, and was quite disdainful of Hollywood's superficiality and American culture's general lack of ingenuity.
In her personal endeavor for invention, Hedy patented an idea that later became the crutch of both secure military communications and mobile phone technology. In 1942, Hedy and composer George Antheil patented what they called the "Secret Communication System." The original idea, meant to solve the problem of enemies blocking signals from radio-controlled missiles during World War II, involved changing radio frequencies simultaneously to prevent enemies from being able to detect the messages. Called frequency hopping, the technology has its roots in pianos that played music from perforated paper rolls, and was shunned by the US government until the Cuban Missile Crisis. While the technology of the time prevented the feasibility of the idea at first, the advent of the transistor and its later downsizing made Hedy's idea very important to both the military and the cell phone industry. Today, Spread Spectrum Broadcasting (derived from this idea) is found in wifi networks, smartphones and GPS. Antheil and Lamarr were both posthumously inducted into the National Inventors Hall of Fame in 2014.
Reportedly, Among the few who knew of Lamarr's inventiveness was aviation tycoon Howard Hughes. Lamarr discussed her relationship with Hughes during an interview, saying that while they dated he actively supported her "tinkering" hobbies by putting his team of science engineers at her disposal, saying they would do or make anything she asked for.
Lamarr became a naturalized citizen of the United States at age 38 on April 10, 1953. Her career slowed in the 1950's. One of her last roles was that of Joan of Arc in Irwin Allen's critically panned epic, The Story of Mankind (1957).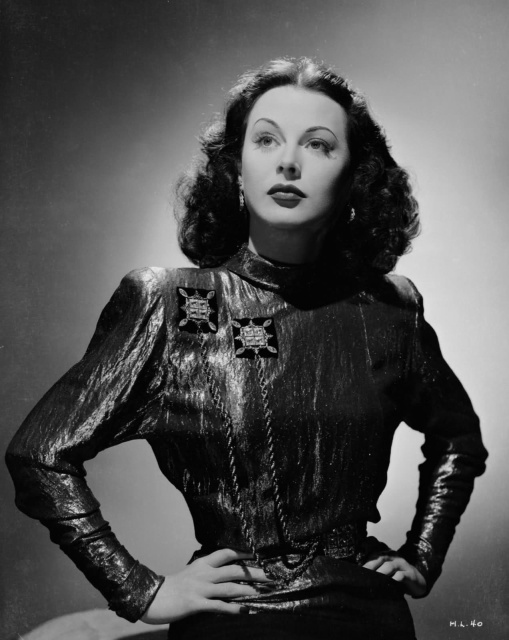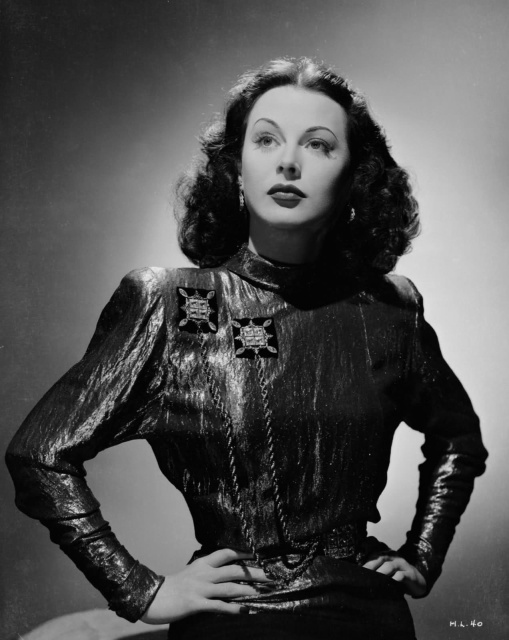 Lamarr was a shining star of individuality during the Golden Era of Hollywood, and a shining example of living your interests fully and uniquely.